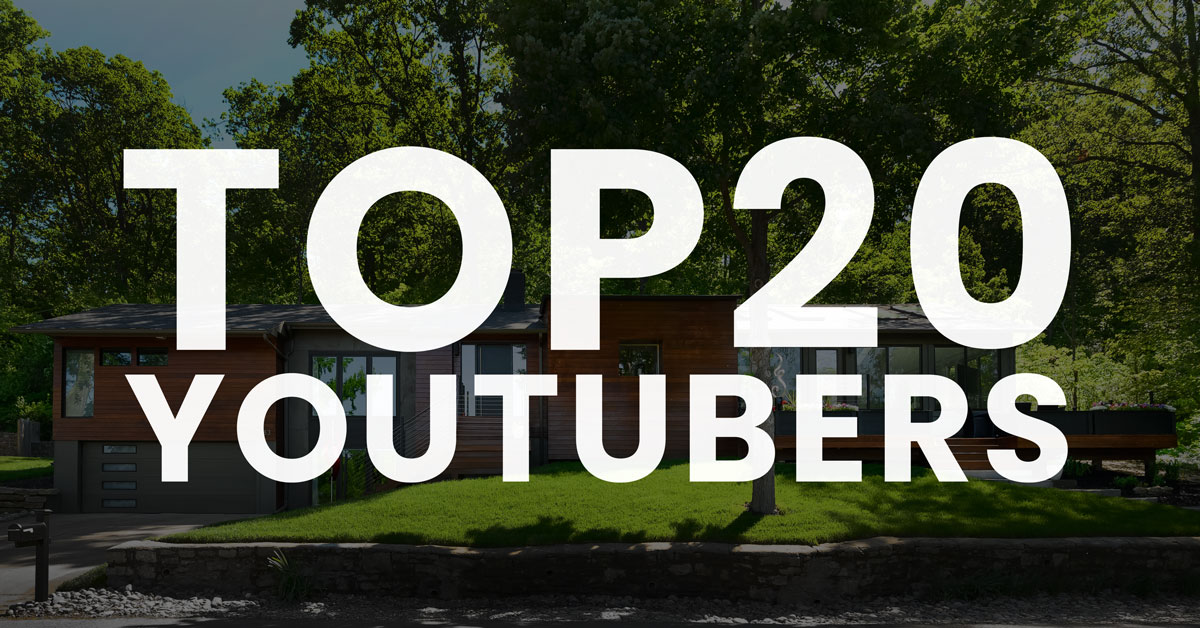 Are you a photographer and business owner? Then you know how important it is to consistently refine your skills and find new ways to improve your business. We can do this through forums, Facebook groups, tutorials, blogs, podcasts… the list goes on.
As a visual learner, I have found YouTube to be my favorite source for learning and keeping up with the latest trends. Even among our little niche, there are endless videos on the subject. That said, I've sifted through the masses and curated a list of the top YouTubers for real estate photographers, real estate videographers, and virtual tour providers to improve and grow your photography business. From tips and tricks to in depth training, you'll be sure to find incredible value from these amazing creators! They are consistently creating new content so be sure to stay up with the latest by subscribing to their channels.
Top 20 YouTubers
Click To View Each Channel
ordered by subscriber count as of 01/25/2021
BONUS! 10 More Channels To Keep Your Eye On
Click To View Each Channel
ordered by subscriber count as of 01/25/2021
Real estate photography tutorials, tips and tricks.
Since February 2016, 360 Rumors has been the most trusted website for IN-DEPTH 360 camera reviews and INNOVATIVE techniques you won't find anywhere else. Here you'll find high quality information, practical advice and unique insights to give you a deeper understanding of 360 cameras. 360 Rumors also serves as a community for 360 enthusiasts of all levels. If it's about 360 cameras, 360rumors.com is the definitive resource for you.
I've been a photographer since 2007, a photography blogger since 2009, and have been shooting exclusively with 360 cameras since May 2015. I pride myself on HANDS-ON information about 360 cameras. As of April 2018, I have forty-two 360 cameras and panoheads, ranging from under $70 to $3500, and I've written over 1,900 articles on 360 cameras (as of April 2018).
Subscribe now and learn how you can use 360 cameras to take awesome photos and videos, for yourself or your business!
Tips and Tricks for Real Estate Photography.
The 360 Guy by Daniel Pharaoh
This channel is dedicated to exploring the new world of VR and 360 media.
Gear, Adventures and Lifestyle for the more mature (in age) viewer!
Inside Real Estate Photography by Mike Burke
Virtual Tour Profit by Zach Calhoon
We are teaching people how to start wildly profitable virtual tour businesses. Download This Free Gift – "The Top 5 Most Profitable Niches For 360 Virtual Tours" – Click Here: http://virtualtourprofit.com
Dave is a videographer and mentor based in Brisbane, Australia.
A producer of custom video productions and video marketing strategies with emphasis on brand awareness, lead generation and sales.
TV commercials, cinema advertising, business promotions and live events.
I share what I've Ilearned from starting and running my 15+ market, multi-million dollar a year revenue Real Estate Media business, ListerPros. I make videos about real estate photography, videography, gear, business, and more! If this is something that interests you consider subscribing and check out my course at RealEstateMediaCourses.com!
PECE Photo by Andrew Pece
I frequently upload videos with designed to help beginners get started in real estate photography. I also cover topics more experienced shooters may run into, such as how to price your real estate photography sessions.
For a more detailed look at how to build your real estate photography business, check out my three tutorials on my website: http://www.pecephoto.com
Real Estate Photography 101
Want to learn real estate photography? Welcome to the Real Estate Photography 101 channel where we will learn how to take photos and edit them using a blend of flash and ambient light. This is more of a casual approach to the topic filmed on site at actual real estate sessions. Make sure to "LIKE" and "SUBSCRIBE"!
We have a lot of videos about tools and techniques in the real estate photography niche, I wanted to make something that is more business focused. I am a Minnesota based interiors photographer. I am currently in the process of growing out of Real Estate photography and more into interiors photography and I get a lot of questions about how I do business, so I decided to start making videos about these things. Follow on Instagram https://www.instagram.com/jrdnpwrs.
I am a professional photographer based in West Sussex, UK. I specialise in commercial, interior and food photography and 360° virtual tours.
Hey there! My name is Eli Jones and I am a business owner in Fort Worth, Texas. In the last 6 years, I've built my real estate photography business from just myself to now 16 staff.
This channel is all about what I've learned and what has helped me grow my businesses. If you are an businesses over, or want to start a business, especially in the creative fields (photography, videography, graphic design, etc) hit the subscribe button and keep watching!
360Creators by Ronald van der Weijden
For 360Creators by 360Creators. Helping 360Creators by sharing knowledge about 3DVista Virtual Tour Pro.
WELCOME to my channel! PHOTO + VIDEO tips, and more! Here to help & have some fun.
Photo/Video/Artist/Musician currently based in VA, From TX
Leave a comment if you are new!
Build A Photo Business by Darryl Stringer
Shooting Spaces by Brian Berkowitz and Rich Baum
Hi All,
Thank you for checking out the YouTube Channel for the We Get Around Network Forum (WGAN-TV)
http://forum.we-get-around.com/
Join the free WGAN Forum Community of 20,000+ … give/get help. Succeed Faster
✓ Matterport Service Providers
✓ Google Street View Pros
✓ Real Estate Agents
✓ 3rd Party Service Providers
As of 30 November 2020 …
✓ Knowledge Base: 78,000 posts
✓ 13,000 topics
✓ 200+ hours of original programming (WGAN-TV Training Academy)
Questions? Please reach out …
Dan Smigrod
We Get Around Network, Founder
Matterport Service Provider since July 2014
Atlanta, Georgia USA
[email protected]
P.S. Thank you for joining the WGAN-TV YouTube Channel
Interface Visual by Wayne Capili
Interface Visual is a commercial/portrait studio in MONTEREY California.
I am an Architectural photographer based in Atlanta, GA. gareygomez.com
Momentum 360 by Sean Boyle
Momentum 360 is a Premiere Small Business and Real Estate marketing company in Philadelphia and tri-state area. Our main service offerings are 3D Virtual Tours powered by Matterport, as well as photography and videography. We are both a Matterport Service Provider and Google Trusted Photography agency. While 3D Virtual Tours started in real estate, they are versatile and applicable across every industry. Momentum 360 specializes in virtual tours for real estate, small businesses, restaurants, retail, healthcare, professional services, and much more. These virtual tours help our clients showcase their business online, while also allowing them to rank higher on Google with SEO, and get more followers on social media. Call for a quote!
I'm sharing my journey and sharing my knowledge! I'm here to relate with you and give you value to help you thrive in life. Enjoy the videos!
Gonz Media Productions by Jonathan Gonzalez
Visual productions specialists bringing you the best content to optimize your brand or business.
Video musings of a professional gear junkie