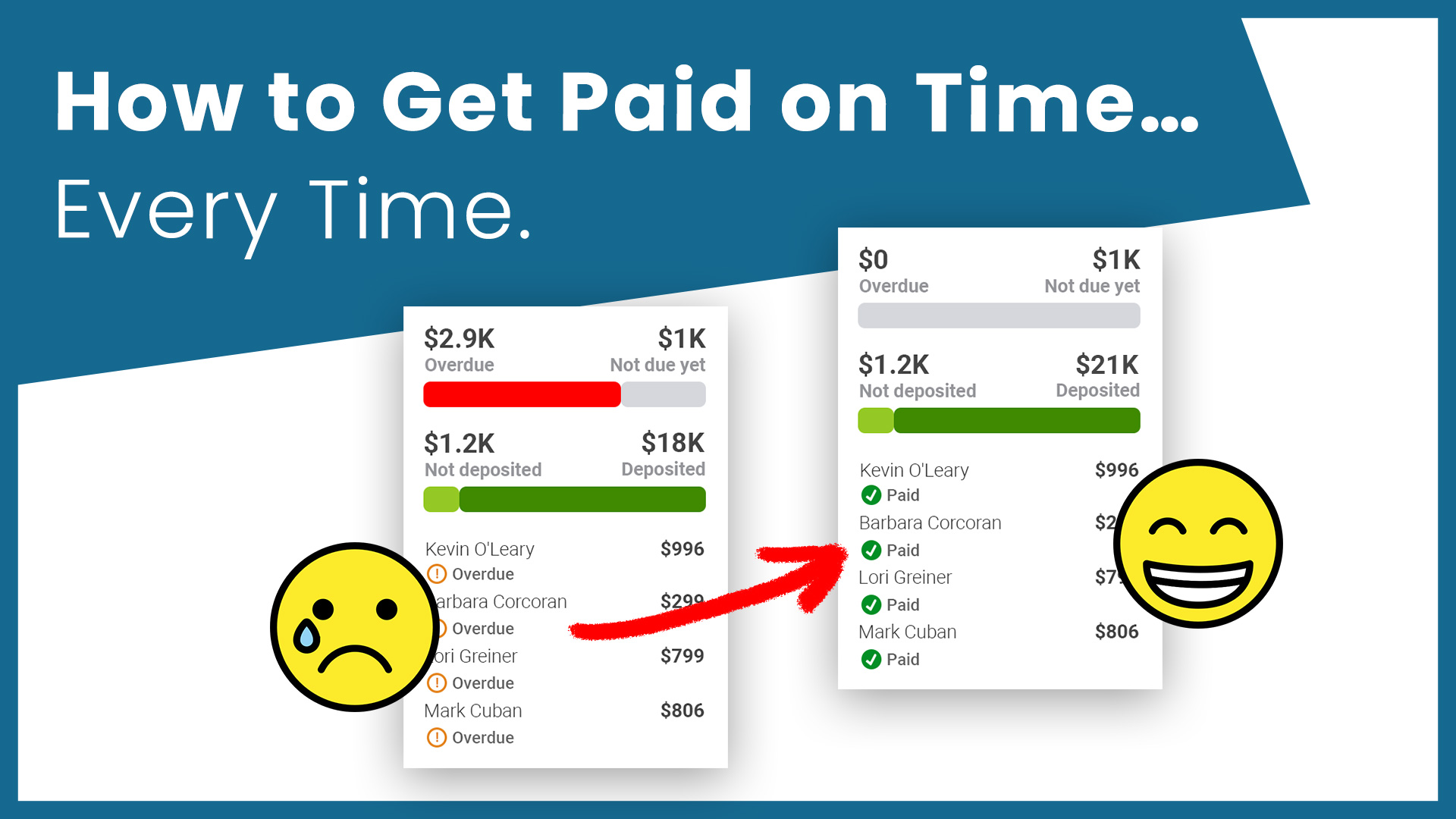 ⏳ Our Time Is Our Most Valuable Resource
Efficiency and cash flow. Maybe not as exciting as discussing camera gear or shooting techniques, but arguably more important to being a successful real estate photographer or virtual tour provider. We must pay attention to efficiency and cash flow in order to stay on top in our competitive markets and provide good service to our clients.
Whether you're a solo photographer or part of a team, your time is typically your largest expense. It's wise to ensure you aren't wasting it on unneeded tasks that don't inherently add value to your business. Spending time sending invoices, emailing reminders … emailing reminders again, and waiting around for payment is not a valuable use of your time.
So, let's eliminate this time waster!
✌ Two Options To Eliminate Invoice Reminders And Late Payments
Require Payment To Book
You can knock out this problem right from the start by requiring payment in order to book a shoot. This could be a great solution for you, but its downside is more barriers when your clients are ready to book with you. Personally, I do not do this with my photography company because I want to keep the booking process as easy as possible!
Require Payment To Download
Requiring payment before your client can access downloads, links, and embed codes is my favorite solution to solve the problem of late payments and invoice reminders.
I like this solution because it allows the client to see exactly what they are receiving before paying for the shoot. In addition, my team is intentional about suggesting add on services during the shoot if we think it could benefit our clients, which means we are often updating the shoot price after the shoot. If we collected payment at the time of booking, this could result in asking the client to pay twice.
With a desire to solve this problem for my own company and the hope of helping other photographers as well, I created a software for real estate photographers called Show & Tour.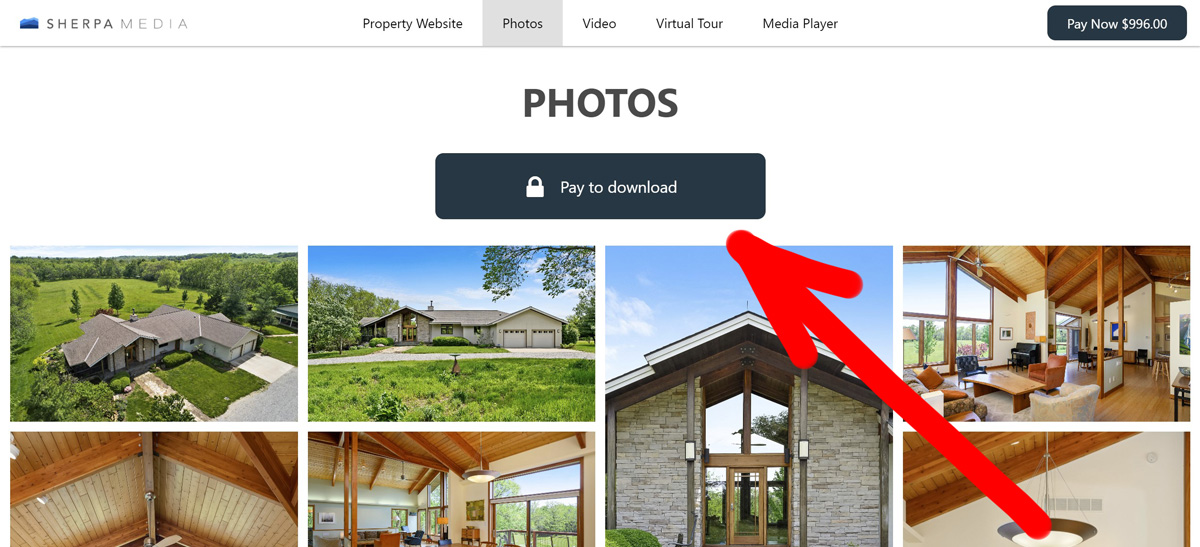 🤔 How It Works
With Show & Tour, you can connect your Stripe or Quickbooks account (Square coming soon!). Once one of these services are connected, you can then add an invoice to a project delivery page and implement the pay to download feature. You will find it simple and efficient – saving you valuable time.
With the pay to download feature turned on, all of your content will be locked until your client has paid the invoice. This includes all downloads, links, and embed codes for your photos, videos, virtual tours, property websites, and custom players. See the example below!
Here is an example project delivery page with the content LOCKED: https://show.tours/F5BbTBKDMneqTVI9J3NR
Here is an example project delivery page with the content UNLOCKED: https://show.tours/ItCnSgAgv3nHKTufNojh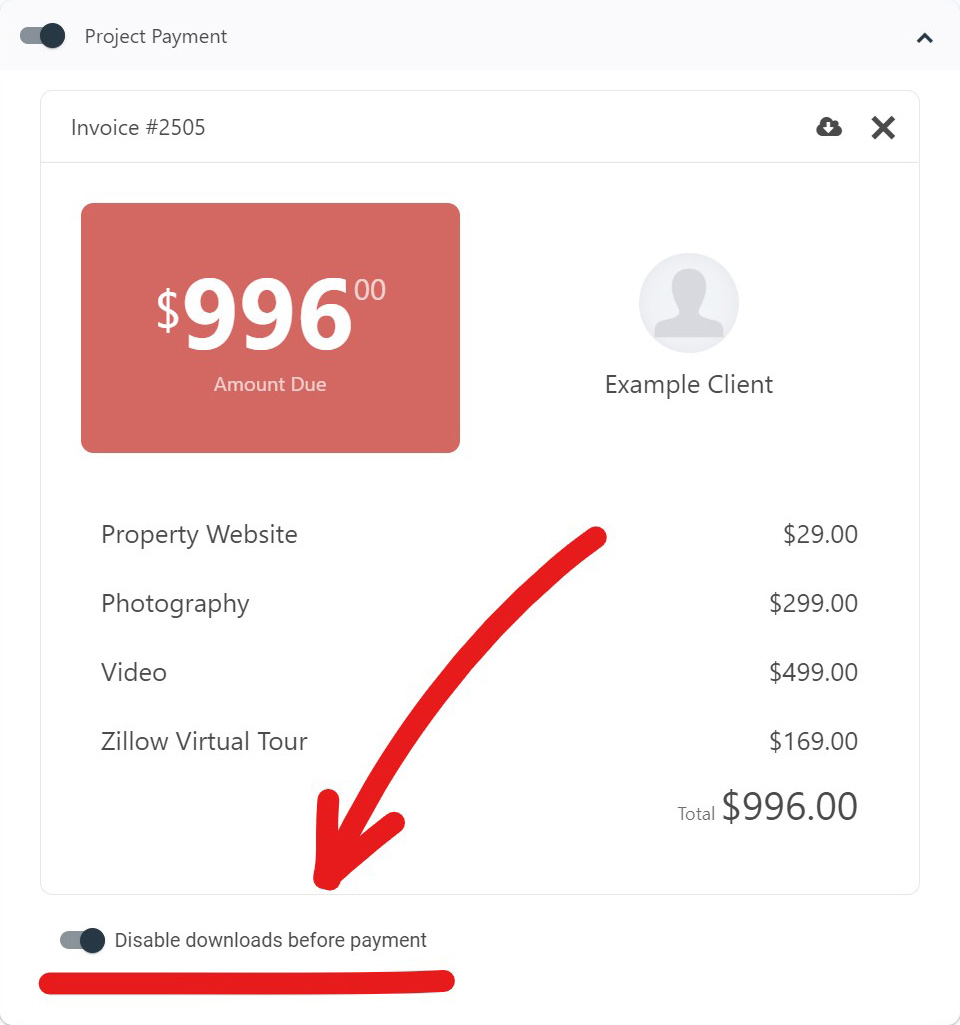 💸 How Much Does It Cost?
Show & Tour is a subscription-based service with a free account available to start. The free account gives you 1 GB of storage, which is enough to hold around 10 projects. A project can include all of your content plus a project delivery page, property website, media player, and as many custom players as you want.
The free account is great to get started, but you'll want to upgrade to the Plus plan for $49/mo in order to add your own custom domain names, implement the pay to download feature, and to get enough storage for around 500 projects.
If you choose to sign up for the $49/mo Plus plan, I am confident your monthly time savings will far outdo your subscription cost. In addition, you'll get access to several other tools to improve customer experience and add more value to your services.
🧐 What Else Is Included In The Show & Tour Plus Plan?
In addition to the pay to download feature and payment integrations, you get…
Project delivery pages with professional email delivery.
Drag & drop property website builder.
Custom players to pull photos/videos/tours together.
Auto web size creation for photos and videos.
Integrate ANY virtual tour or video (YouTube, Vimeo, Matterport, iGuide, CloudPano, Zillow 3D Home… to name a few).
Free SSL security & password protection on all of your content.
Add your logo and links back to your website.
Enough storage for ~500 projects!
🎉 In Conclusion
Your time is valuable! And you deserve to be paid on time. Never again send invoice reminders and get paid on time – every time – with the Show & Tour pay to download feature. It's easy to implement, simple to use, and pays for itself.
In addition, you'll get a set of amazing tools to further improve your business and impress your clients. So give us a try! I believe you'll really love using Show & Tour as myself and hundreds of other photographers around the world already have.
Example Projects Created With Show & Tour
There are endless ways to build out a property website using Show & Tour. Here are just a few!
Like property websites, project delivery pages are completely customizable. Easily add an invoice and collect payment before your client can access the links or downloads.
The Media Player is the perfect tool to combine multiple forms of media to be displayed on any website. The possibilities are endless! Follow the link for inspiration.
Custom Players for Virtual Tours and Videos
Custom players give you the freedom to showcase any virtual tour or video on your own domain name, secured with a password, and linking back to your website. You also have the ability to customize the look and change the header and action text.